Easy Chocolate Banana Soft Serve Ice Cream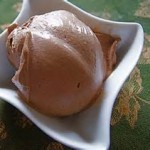 Ingredients:
½ cup of homemade raw almond mylk
2 small frozen bananas
1 tablespoon of raw organic cacao powder
Method: Serves 2-3
Blend all ingredients on level 4-5 in the Vitamix or other high-powered blender. Use your tamper to blend the frozen bananas well into a creamy mixture. For more thickness add ½ of a banana and for less thickness simply add more almond mylk or water. ENJOY!