Raw Lemon Cheesecake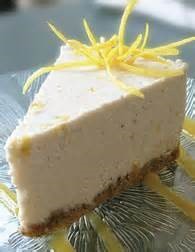 Crust:
1 cup raw almonds (soaked and dehydrated)
1 cup raw pecans (soaked and dehydrated)
1 teaspoon of vanilla extract
½ cup medjool dates (9)
A Pinch of Celtic Sea Salt
Place ingredients in a food processor and process until all ingredients are well mixed. Press into springform pan.
Filling:
3 cups of chopped cashews, soaked for at least 4 hours to soften nuts
¾ cup of lemon juice
1 tablespoon of organic lemon zest
½ cup of filtered water
¾ cup of raw honey
¾ cup of organic coconut oil
1 teaspoon of vanilla extract
½ teaspoon Celtic Sea Salt
Put filling ingredients into a blender and blend until very creamy. Pour over crust and place in the freezer until firm. Put in refrigerator about 2 hours before serving. If still frozen, place on counter for about an hour before serving.
Tip: Sprinkle lemon zest on top of cheesecake for decoration. You can also substitute the nuts in the crust.